16 April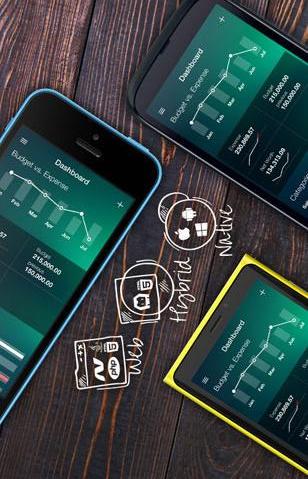 Native, Web or Hybrid Apps?
The moment you consider investing in a mobile app, you're immediately faced with a barrage of terminology.
What's the difference between iOS and Android? What are native, hybrid and web apps? More importantly, which is most appropriate for your and your app?
The world of app development is an exciting, yet sometimes a bit of a confusing place. Your choice will depend on you, your budget and time-scale as there is no definitive answer to which type of app you should go for. The aim of this article is to give you a sound understanding of the different types of apps available and to aid your decision as to whether you should spend your hard-earned cash.
The Basics
As it stands, most mobile devices use one of the two dominant operating systems: Google-developed Android (48.3%) and the Apple-developed iOS (41%).
The difference between these operating systems and their related devices isn't just aesthetic: Just as your MacBook won't run a Windows application, an Android phone can't run an app built for iPhone — in most cases at least.
With the rise of the smartphone, it's apparent that we love apps. You only have to look at the statistics: App Store, 85 billion downloads to October 2014, Google Play, 50 billion downloads to January 2014.
What about Blackberry and Windows phones? From an app developer point of view, their small, declining market share means that there's little need to consider them. Google and Apple are dominant and this is not going to change.
Native Apps
Native apps are what typically springs to mind when you think of an app. You download them from the App Store or Google Play, they sit within your device's applications and you launch them by tapping their icon.
Developing Native Apps
What distinguishes native apps from the alternatives mentioned is that they are designed and coded for a specific kind of device. For instance, iPhone apps are written in Objective-C, Android apps in Java, etc.
Each mobile platform offers developers their own development tools, interface elements and standardised SDK. This should enable any professional developer to develop a native app relatively easily.
There are a number of advantages to writing apps in this way:
They offer the fastest, most reliable and most responsive experience to users.
They can tap into the wider functionality of the device; including the camera, microphone, compass, accelerometer and swipe gestures.
Publishers can make use of push-notifications, alerting users every time a new piece of content is published or when their attention is required. This is a key method of engagement. You get the opportunity to continually bring your audience back for more.
Users spend time on apps. The popularity of apps has increased enormously and is continuing to rise.
It's not just about access to core device capabilities though, native apps, when well designed, respect the design patterns and standards of each platform. It goes beyond a left-aligned header on Android vs a center-aligned header on iOS, there's hundreds of small differences in the design of user interactions on each platform. Taking them all into account means designing apps that are intuitive to use and play well with the rest of that platform's ecosystem. Overall, going for native apps helps you create apps that are designed to delight your users.
The main downside of a native app is that it will not work with other kinds of devices. If you write an app in Objective-C for iOS, it's not going to run on Android without being completely re-written in Java. When building for multiple platforms, developing a native app therefore can be quite expensive (when done from scratch), as it will require you to build and maintain multiple, separate versions of your app. It's also common for developers to specialise in one platform, so often you'll have to find different coders for each platform you want your app to be available for.
If your budget allows it, native apps are the ideal, offering the best user experience. When building from scratch and when multi-platform support is key, then be aware this can also be the most costly option.
A reputable developer or agency can easily quote between $25,000 to $50,000 for a custom native app, built from the ground up. Multiply that for every platform you need to cover, considering nowadays you kind of have to build for both iOS and Android.
Things are quite different though when you're considering using a native platform like Mobiloud, where the development has already been done for you, and you can simply take the benefits of native apps, without the costs. Platforms or app builders cover a specific use case or set of functionality.
With Mobiloud, it's WordPress-based online publications such as news sites, blogs, online magazines, membership sites and similar.
Examples of native apps: Angry Birds, Shazam
What are Web Apps?
At the other end of the scale are mobile-optimised web apps.
If you've ever seen the 'mobile version' of a site, that's what we're talking about. An "app" like this loads within a mobile browser, like Safari or Chrome, like every other website. Your audience doesn't have to install a web app. They don't need to have available space on their devices.
Web apps are sometimes designed to look and behave like apps and are in general ideal when the purpose is simply to make content or functionality available on mobile, but an app is either not a good fit or too expensive.
Web apps use JavaScript, CSS, HTML5 or other languages. A developer won't have access to a standardised SDK. Developing a web app can be simple and quick, however, their simplicity is also their downside.
There are web app "evangelists" out there that are adamant that web apps are equal to, or even better than native apps. They argue flexibility in terms of cost and functionality. There is no dependence on having a certain type of hardware either.
Web apps are limited in what they can do effectively in terms of features and they will generally always require an Internet connection to work.  They are slower and less intuitive. Web apps are designed once for every platform and therefore won't look or behave like a real app on any of them.
If you use a web app, be warned that they are also more difficult to build a loyal user-base from. Unless the reader saves it as a bookmark, users won't have the app's icon on their home screen as a constant reminder. As a developer or publisher, you can't send them notifications to bring them back to your content. It's difficult to engage with your audience.
Furthermore, with a web app, you're missing out on an important source of downloads/traffic. Whilst native and hybrid apps appear on the App Store and Google Play, web apps won't. With millions of searches every day on these stores, the potential to get your app discovered is real.
What are Hybrid Apps?
Somewhere between native and web apps you'll find hybrid apps. They are usually quicker to build (and thus cheaper) than native apps, but a step-up from what you can expect out of browser-based web apps. Is the hybrid app the best of both worlds?
The bulk of the app is built using cross-compatible web technologies, such as HTML5, CSS and Javascript — the same languages used to write web apps. Some native code is used however to allow the app to access the wider functionality of the device and produce a more refined user experience. For native apps, instead only native code is used. The advantage of this approach is obvious: only a portion of native code has to be re-written to make the app work on the different kinds of devices available.
An advantage that hybrid apps have over native is that it's faster and easier to develop. It's also easier to maintain and you can change platforms. The app itself will not be as fast as a native app as it still depends on the browser speed.
There are two main players in the world of hybrid apps: Phonegap/Cordova and Appcelerator Titanium. With these tools you create HTML/CSS/Javascript local files, design and build the app as if it was a website, then use Cordova to wrap them into a mobile app.
Getting your hybrid app to run appropriately on each platform generally takes substantial work. In some situations, the total cost might become comparable to that of fully native apps, rendering the cost benefits negligible. It all depends on how close you want to get to the "native user experience" or how simple your app is.
When the user accesses your web content online through a hybrid app, performance will be sluggish when compared with a native app.
Still, there's one big advantage in hybrid apps.  Being built on one single core, you can add functionality and have multiple versions of the app all benefit from it. On the contrary, with native apps, for every new functionality you want to introduce, the feature will have to be replicated on each platform.
Examples of hybrid apps: Facebook, TuneIn Radio, LinkedIn